Tuesday, 12 May 2015 14:22
Russia will adhere to its traditions regardless of what the West wants it do, thinks it should do, or believes it should do cautioned Major General Peter Williams talking to the National Press Club at the Associated Audio Bose auditorium.

The Russian mind-set and thus approach rests on fear of iinternal fragmentation which in turn pivots on the threat of external intervention, especially full scale invasion. Such fears were justified noted General Williams recalling the British interventionism after World War 1. This was followed by the determination after World War 2 of the West to disrupt the USSR via the Cold War.

This type of damaging intervention continues to this day, he observed, and is characterised for example by the United Kingdom taking in from Russia hundreds of billions of US dollars equivalent which amounted to "dirty money," declared General Williams.
General Williams himself was a Cold War warrior having served with BRIXMIS, the British cross-mission into Soviet held East Germany.

After the collapse of the USSR he went on to lead the NATO Mission to the new Russian Federation.

The Coldstream Guards officer identified the failure of the West to understand the Russia concept of power as central to what he described as the syndrome in which there was the belief that "because they look like us – they must also think like us."

In the event Russians were most at home with their tradition of centralised monolithic power just because experience had taught them that such unbridled power was the best way to deal with these constant threats of invasion, foreign interventionism, internal fragmentation, and economic collapse.

There was no such thing in the Russian makeup as the notion of the steel fist in the velvet glove. There was no such concept as the Western one about the "abuse of power".

"In Russia, if you have power. Then you must use it. If you do not use it, then the power that you possess will simply be taken away from you."

Because of this, Russia was determined to bring back into Mother Russia, what it knew as its "near abroad," the newly created republics.

In pursuit of this national objective Russia, under its leader Vladimir Putin, would continue to exhibit singularity of purpose by, for example, "reaching out to kill its enemies, regardless of where they are."

Russia, emphasised General Williams, was not going to change its ways on the whims of the West. Its overarching objective remains to restore its Tsarist "former glories."

An aspect of Russian life today that constantly bamboozled Western journalists and other observers and analysts declared General Williams was that surrounding the lifestyle of Vladimir Putin himself.

His association with gymnasts and other such contemporary figures in the sports sphere was interpreted in the West as an indication of modernism.

In the event and within Russia such behaviour was regarded as a tough-guy lifestyle, and thus to be respected – and feared.
Committee member Digby Paape with Major General Peter Williams at the National Press Club meeting at the Associated Audio Bose Auditorium in Wellington

Continue here to view more photographs
Tuesday, 12 May 2015 14:37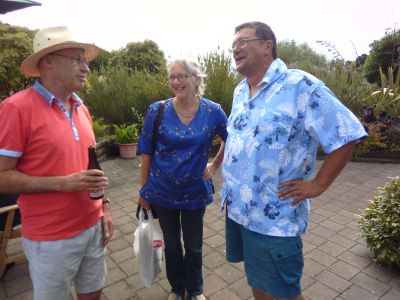 The 20th annual gathering of Central Districts/ Wellington region journalists this year also served as a milestone for perpetual host New Zealand Farmer editor Jon Morgan's own half century in harness.
He signed on under the old cadet apprenticeship scheme in his teens and soon began specialising in rural and agribusiness reporting which has remained his focus ever since. In recent years he has found himself shifting from the press bench to the judges rostrum, adjudicating on exhibits at agricultural shows and field days.

The event also gives his guest-colleagues an insight into their hosts' own pastoral and horticutural skills because the venue is the Morgan's own property in the Horowhenua - Kapiti district.
Post prandial. Evening Post's Penny Harding Gary Connor
Tuesday, 12 May 2015 14:42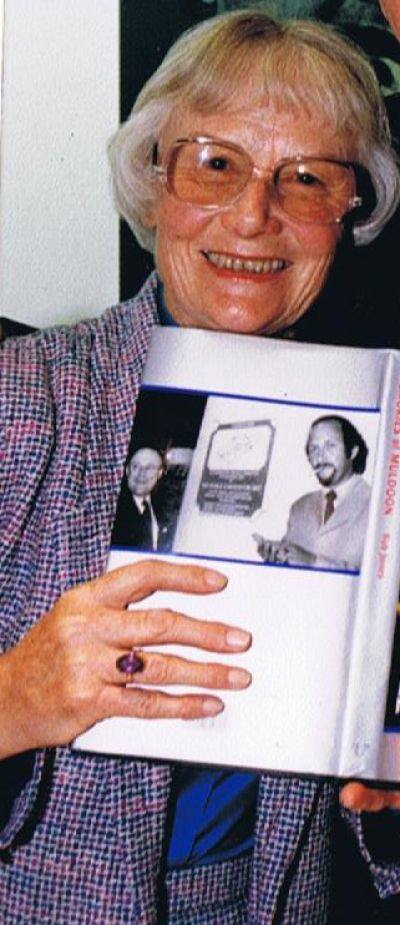 An Interview with National Press Club President Peter Isaac

Dame Thea Muldoon Personified an Era.
She Gave Shortest New Zealand Speech Ever
Saturday, 06 December 2014 13:34
Written by Peter Issac
Lifetime Achievement Award Laureate

Connie Lawn is Dean of

White House Press Corps
Saturday, 06 December 2014 13:32
Washington-based news agency EIN Presswire has embarked upon a joint venture with the National Press Club. The venture sends news about the New Zealand productive sector to North America and the rest of the world. The arrangement was put together by Max Farndale (pictured at side) publisher of MSC Newswire. It is the affiliate of the Washington news company.
The proprietor of EIN Presswire David Rothstein (pictured underneath) declared that the joint venture was part of his organisation's world-wide emphasis on the productive sector and especially in manufacturing.
"New Zealand has this reputation in North America and Europe for honesty of purpose blended with an inventive sense of industry. There is now this opportunity of presenting the products of this to the world at large."
The Washington news agency turned to MSC Newswire to develop the channel for New Zealand manufacturer news into the North American market. It was then that Mr Farndale talked to the National Press Club to assist in the venture.
MSC Newswire is the only such organisation in Australasia dealing exclusively in productive sector news. All the other agencies focus on the financial news and politics spectrum.
Mr Farndale observed that New Zealand's economy rests on its ability to produce products that people need and which are three dimensional..
Since the 1987 crash in which New Zealand lost all its banks and insurance companies along with 150 years worth of accumulated capital, it had ceased to be regarded globally as a repository of financial expertise, an impression confirmed since 2007 when almost all its finance companies had gone to the wall.
"So our focus is on manufacturing, production engineering, and processing, spheres in which New Zealand enjoys a high and sustained reputation."
The joint venture organised by MSC Newswire has run since the start of the last quarter of 2014. According to Mr Farndale data reveals that over half the audience for the New Zealand productive sector stories is now within North America.
"It is one of those examples of an outsider, in this case Washington's EIN Presswire, seeing an opportunity that was hiding in plain sight of the locals," commented Mr Farndale.
MSC Newswire is based in Hawkes Bay which Mr Farndale considers one of the hearts of the productive sector. The company was formed two years ago.
The National Press Club's role is to use its members own resources to identify products and companies of interest. The club's newsmaker category includes industrialists, technicians, and administrators in the productive sector.
The procedure is for the New Zealand productive sector stories to enter the project via MSC Newswire and for these stories then to be vectored onto EIN Presswire's global network.
"It is an example of the kind of leverage that can be obtained through this joint approach. In this case it means that New Zealand's productive sector news is seen by an audience hundreds of times greater than if the same stories had been restricted to just local consumption," added Max Farndale
"It overcomes the problem of New Zealand producers marketing back to themselves and to the people who already know all about them, and what they are doing. It has opened up an entirely new world for the productive sector here."
---