Saturday, 06 December 2014 13:34
Written by Peter Issac
Lifetime Achievement Award Laureate

Connie Lawn is Dean of

White House Press Corps
Monday, 05 October 2015 11:13

Brazil Envoy Emphasises

Language & Cultural Objectives
The 193rd anniversary of the independence of Brazil drew as guests National Press Club president Peter Isaac and newsmakers Bill and Donas Nathan (pictured). Sometime soldier, IT executive, state protocol official and impresario Mr Nathan's work in the performing arts corresponds with the Brazil embassy in Wellington work in supporting Polynesian and Latin American cultural links.

Meanwhile Ambassador Eduardo Gradilone drew attention to the accelerating Brazil/New Zealand student exchange scheme – an indicator of the flourishing relationship between the two countries.
He also spoke of the value in this of New Zealanders learning Portuguese and Brazilians learning English. With over 200 million speakers worldwide Portuguese is a substantially more widely spoken language than for example French.

Brazil opened an Embassy in Wellington in 1997 taking the initiative in the New Zealand Government's Latin American Strategy announced in August 2000. This was followed up with the establishment of the New Zealand Embassy in 2001 which reinforced a trade office opened in São Paulo in 1999.
Tuesday, 12 May 2015 14:37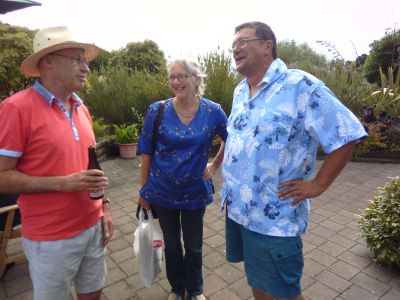 The 20th annual gathering of Central Districts/ Wellington region journalists this year also served as a milestone for perpetual host New Zealand Farmer editor Jon Morgan's own half century in harness.
He signed on under the old cadet apprenticeship scheme in his teens and soon began specialising in rural and agribusiness reporting which has remained his focus ever since. In recent years he has found himself shifting from the press bench to the judges rostrum, adjudicating on exhibits at agricultural shows and field days.

The event also gives his guest-colleagues an insight into their hosts' own pastoral and horticutural skills because the venue is the Morgan's own property in the Horowhenua - Kapiti district.
Post prandial. Evening Post's Penny Harding Gary Connor